Note: Timecodes are based on DVD releases of the episodes (Region 1, NTSC).
DASH: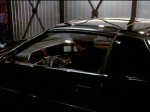 After she finishes working on K.I.T.T., Bonnie switches the dash off. Michael leaves in the car, without switching the dash lights back on.
K.I.T.T.:
Blind driving scenes. The Auto Drive seat is visible and highlighted.
STUNTS & DOUBLES:
0:21:55
0:22:00
0:22:03
0:22:13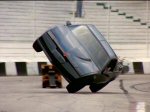 A stunt Trans Am (with a stock dash) is taken on two wheels by Buzz Bundy. A handle attached on the driver's side to help Bundy retain balance is visible in these shots.
CREW: